You have the choice of choosing a semi- private small group class.  With a min of 3 to max of 10 participants. Or you may request a One on One individualized private yoga class.
SAMPOORNA & SIVANANDA HATHA YOGA ( Beginner, Intermediate and Advance)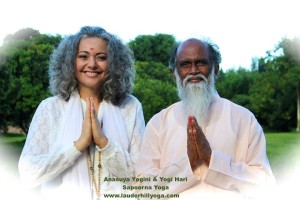 Lauderhill Shakti Yoga Shala also offers a variety of classes for pregnancy, the postpartum period and beyond. We even have classes for people who aren't pregnant or mothering a little one:
Designed to both nurture and challenge your body, Shakti Yoga Shala prenatal yoga inspires trust in your birthing journey while providing an open community to discuss what you are experiencing. Whether you are a new or experienced yoga student, we'll guide you gracefully through meditation, breathing, and movement. You'll benefit from much-needed relaxation, while strengthening the muscles that support your baby during pregnancy and labor. Reconnect with your body's innate wisdom about birth, bond with baby, and meet other mamas! All levels and stages of pregnancy welcome.
Prepare for the journey into parenthood together as a couple. Class includes lots of partnering yoga and meditation, and some discussion. We also cover specific yogic exercises which are useful for labor and ways of staying emotionally connected through the rigors of parenthood. Class end with a long, luxurious restorative pose.
BRING YOUR OWN BABY YOGA (aka "BYOB")
Nurture your baby while caring for yourself. Bring Your Own Baby Yoga invites babies and their caregivers (moms, dads, grandparents, nannies) to bond through loving touch, sight, sound, and movement. Let baby in on the yoga action physically, mentally, and spiritually to build a strong bond of trust and security— the foundation of self-confidence for baby.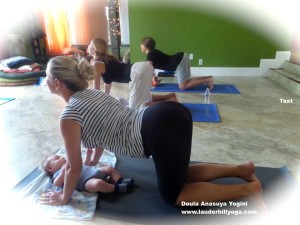 While incorporating your little one into the BYOB yoga sequence, you also receive a nurturing, strengthening practice designed specifically for your postnatal body and spirit. The class offers a chance for moms to connect with other new moms, too. You'll find a warm, supportive community — essential during the postpartum period! BYOB is appropriate until baby is crawling.
Heal, strengthen and nurture your body after childbirth. This class will help rebuild strength in the physical body, soothe common aches of new parenthood, and rejuvenate your energy. We'll guide you through a meditative sequence designed to bring you inner peace and joy. Connect with other mamas in the community too!  This class is designed for ALL mamas who are at least 6 weeks postpartum.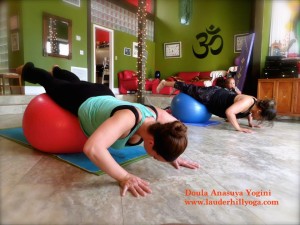 FREE VIPASSANA MEDITATION SITTING GROUP Tuesday at 7:00 – 8:00 pm 
Membership is open only to those who have taken at least one ten-day course with S.N. Goenka or one of his assistant teachers.
*This group's purpose is to organize weekly group sittings for S.N Goenka Vipassana students.
*To promote the growth of the Dhamma in the group members.
*To help meditators get stablished in Vipassana meditation.
*To encourage students to follow the precepts of The Noble Eightfold Path.
Please remember to follow our rules for the best use of our time and place:
1. Observe all five precepts while in the meditation area.
2. Keep noble-silence in and near by the meditation room.
3. Try to be on-time. (If you are not on time, help your self to the meditation room. The doors will be left open.)
4. For your comfort please bring your own cushions.
YOU MUST REGISTER BEFORE ATTENDING  ALL CLASSES    
There will be a day of orientation prior to coming to your first class and therefore we must schedule your first appointment.
Private one on one services are scheduled at your convenience choose the style of yoga you would like to practice.
Call me or email me if you have more questions about any particular service.
CLASS AND PACKAGE FEES FOR SAMPOORNA YOGA

"Just Trying Yoga" Drop in class
$25 per class
If you are a curious explorer of health alternatives, but not ready to commit to a practice a drop in class is just for you, this class also allows you to try our class, before you stay as a regular practitioner.
" The Yoga Practice Commitment Challenge Packet"
10 classes for $180 ($18 per class)
*Must commit to practice 3 times a week. Missed classes are non refundable.
The purpose of this challenge is for YOU to take your new goal seriously and for you to achieve the new healthy habits and benefits that are only accomplished by regular practice.
" The Yoga Junkie Packet"
10 classes for $160 ($16 per class)
* For those who can't get enough yoga and want to practice Monday through Friday.
For this package you must be ready to get fit and peaceful. The practice is 5 times a week in a state of bliss to start your day.